Exactly one year ago we tried unsuccessfully to meet up with a certain motovlogger at the Diemelsee. This year we try something completely different and go to a motovlogger meetup where we are guaranteed to meet dozens of this species. 🙂
From 26.07. to 28.07.2019 the annual meeting of the Motovlog.de community took place, also known – a bit self-ironically, I hope – as the AGA. This time it took place in the Rhön.

The organisation of the "this is not an event because of liability issues" was the choicest: There was a dedicated website which gradually revealed all relevant information – a list of all participants, routes for all sections and all conceivable satnav tools, accommodation options, and meeting spots for various groups wanting to share their journey out. You name it, they thought of it and presented it, aesthetically pleasing, no less .
Using the discord channel of the community the participants were able to coordinate weeks in advance and to continuously build up anticipation.
26.07. – the journey out
Quite a lot of the more than 30 vloggers organised their journey out into ride alongs which were even given names. We called ours "deep in the west" and we merged with the "Sauerland gang" because of reasons.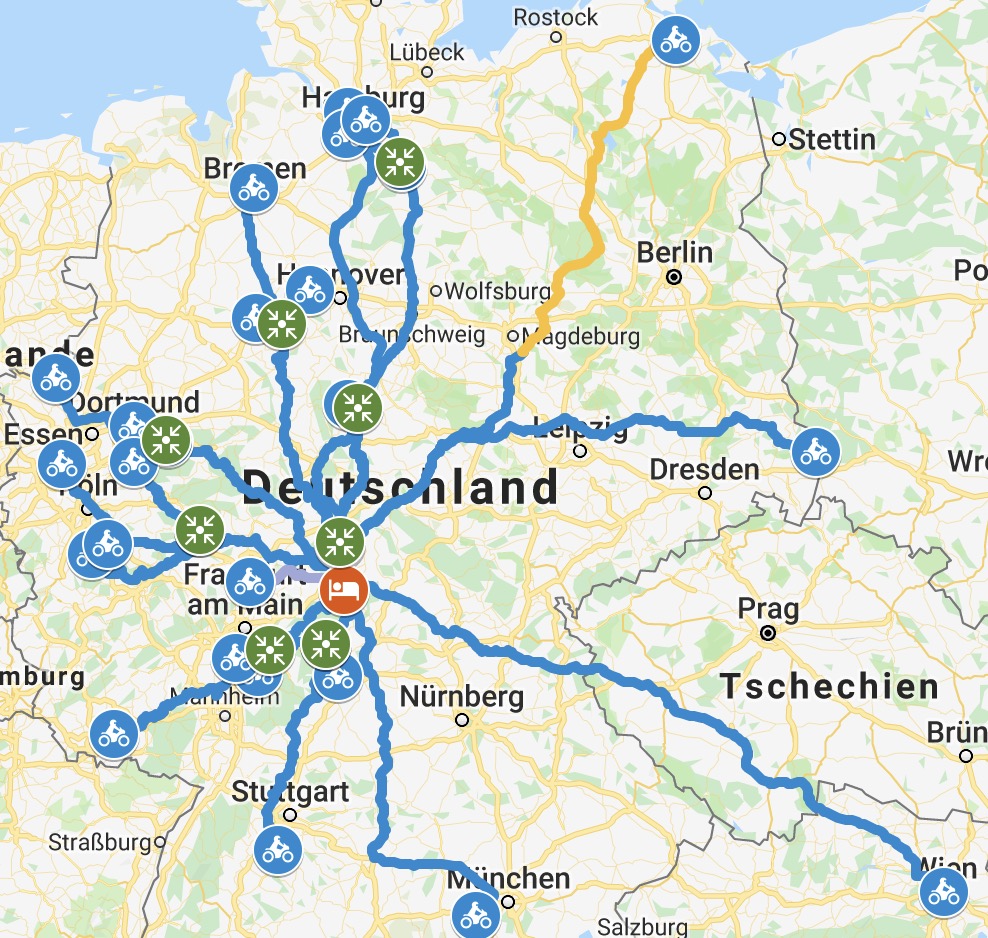 Our meeting spot was at DucStyle's place around noon, who greeted us as a perfect host with cold beverages and grilled sausages and mustard in a bun. A huge thank you for that once more from us!
From there, we carried on with moderate speed towards the Rhön, with one longer forced stop in a Marburg pub because of #WalletGate. In the torrid heat of the day, this was quite welcome, though.
Since the heat badgered Elli quite a bit, we decided to fall back and have more drinking breaks while letting the others go ahead.
At our destination, the Rhönperle, we took a cold shower and then visited the attached beer garden. Our gang apparently managed to bring the service staff to its capacity limit and beyond. So it took forever until our food arrived, but once it did it was delicious. And even though just ordering drinks was slow business, we managed to quench both our thirst and our hunger at long last.
Even though we knew no one personally beforehand, except for Bulldog Gaz, we had no problem whatsoever to get in with the group and had lots of interesting conversations.

This is probably what one calls "bike talk", but funnily enough bikes were rarely the topic of my conversations. And, because of the sheer size of the group, we didn't manage to get to know each and every one of the participants. But all in all, it was a terrific and relaxed atmosphere.
We were very upset, however, by the news that one of the vloggers was involved in an accident on the way and had to be taken to hospital. Later, he sent us some selfies from sickbed showing that all limbs are still attached, so there's that.

Elli can sympathise, as it has only been three months since her own collision with a car's bonnet.
After the very hot day our room was still unpleasantly warm and stuffy from the shower earlier. Sadly, there was no way to create a draught, so cooling only happened very gradually.

This is why I decided to sleep the first few hours outside on the balcony and returned to bed only with the first of many cock crows at around 3:00 am. The night was amazingly restful nevertheless.
27.07. – the day trip
The route through the Rhön, avoiding the main roads, once more confirmed the top preparation of the "non-organisers, because of liability". It managed to include an incredibly low number of traffic lights and lead us through beautiful landscapes on terrific roads.
The first stop of the day was the Super-Bike-Box of the Rhönian original Stefan Druschel, who rehashed our visit in his weekly review on his youtube channel.
We continued along the Hochrhönstraße and Franzosenweg. On our way to the destination of the first leg, the Rhön's highest mountain called Wasserkuppe, we had our first refuelling stop, which took place astonishingly smoothly. The relevant instruction went like this:
At the refuelling stop, please don't settle down and buy ice cream or some such. We are only 10 minutes away from our actual break, the Wasserkuppe!

signed "the non-organisers, because liability".
So, of course, almost everyone went ahead and bought some ice cream.
Just a few minutes later we arrived at the Wasserkuppe as planned. Thanks to an exceptional permission organised beforehand, we were able to ride right up to the Radom and park our bikes there. And since someone asked: Radon is one of the noble gases.
Several photo sessions ensued. And this was when the first and only gap in the organisation occurred, since we were now quite a long way away from all the stalls selling food. The scheduled time of one hour for this break was hardly enough to walk down the mountain, get something to eat and wheeze back up again.
The next leg of the tour lead to Point Alpha, but Elli and I decided to skip this part and mill around on our own for a while, drink some coffee and arrive a bit early at the Kneshecke which was the location of tonight's dinner.
Here the service staff was much more on the ball. Partly, it was self-service, too. Unfortunately, the Kneshecke-Burger was no epiphany.
After dinner, back we went to the Rhönperle on the final leg of the day. There, one refreshing shower later, ordering drinks again proved to be much more difficult than you would expect at an inn. All in all this evening felt a lot more muted than the one before, unsurprisingly really, since most of us were tired after two days riding.
28.07. – the way back
Our way back led us to Runkel, where a frugal baguette from the ice cream parlour on the banks of the river Lahn served as our lunch. Afterwards, riding through the Gelbachtal, the rain finally caught up with us. After a coffee break in Bad Ems we witnessed a spectacle when a car driver conducted his pulling out of a parking space by ear only. Several times, front and back! And after that, the home run.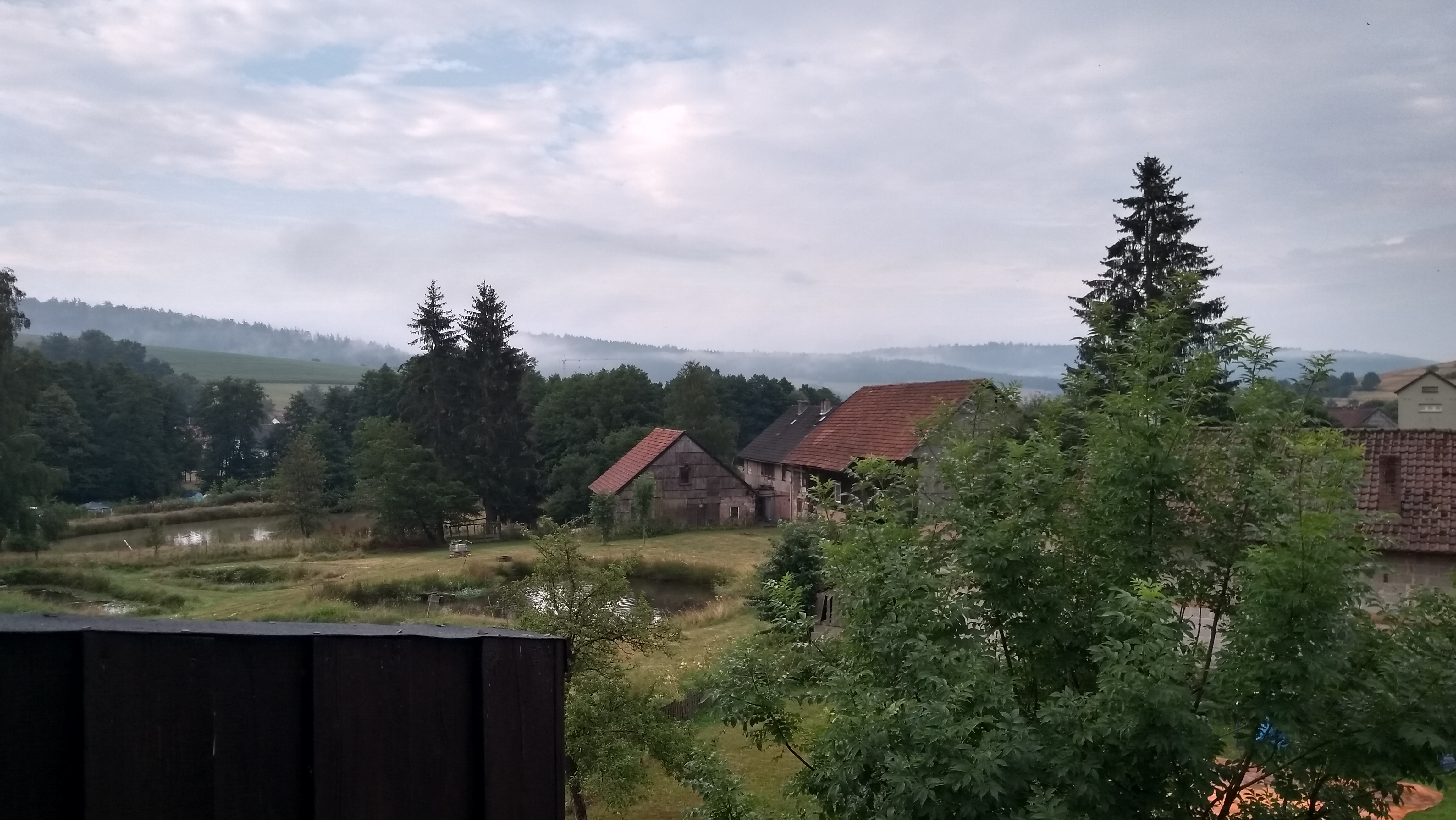 Résumé
Folks, it has been a blast to get to know you all and ride around with you! We already very much look forward to repeat this next year.
Using the hashtag #motovlogde19 you can find and admire all the pieces of art on youtube that the participants created from this entirely successful and fabulously organised event.
Participants
In the sequence they are listed on the website mentioned above, probably in order of receipt of registration for the event.
Photo credits where mentioned: DucStyle
The organisers: